| | |
| --- | --- |
| Title | Tied Up |
| Status | Remastered - Final |
| Photos | 109 |
| Outtakes | 52 |
| Animated Fun | 58 |
| Videos | 2 |
| Runtime | 00:27:09 |
| Shoot Date | 2004-07-13 |
| Release Date | 2020-11-09 |
Tied Up
Next Door Nikki
---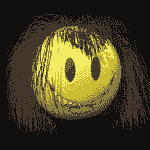 Sometimes, there is much more to a photoshoot than just taking pictures. For example, How is it so—our darling Nikki was tied up in the Strappado, and what in the hell is that? How does an unplanned photoset morph into a rope bondage theme? What name did I call my video guy when he stepped on the rope? These questions deserve answers. I will be your answerer.
---
---
The Black Hole
Cigarette smoke slowly swirled throughout the garage's damp, trance music-filled air. In between sets, the video guy and phil-flash were bullshitting over a cup of coffee when suddenly, the door swung open, and there she stood.
Framed by the doorway, Nikki posed tall.
Her arms to the side, her hands gently placed on the wall.

Perfect was her posture—tiptoed, legs long and flexed.
Her body kind of formed the shape of an x.

Scrunched socks and sneakers cover her feet.
Her toned calves, slightly above, your eyes will meet.

Yellow fullback panties hide the pink.
And a smiley print on the front just gave you a wink.

Sucked in was her tummy, which raised up the rack.
Her bra was bulging, and its color was black.

Her eyes were excited, they were big, and they were brown.
Her face matched her panties, the opposite of a frown.

The music and the smoke—they were sucked away!

Murmured sounds of "oh" and "wow" being merged into one word...
Was all that could be heard.
"I'm ready," she said, "what do you think?"
Threesome
Nikki sat down and joined the break. Yes, they jiggled, an in bra mini-quake. The three discussed where to shoot the next set or at least tried to. Nikki had nothing. Her only out-loud thought so far was, "It's fuckin' hot out here!" The video guy, he wanted to get out the water hose. But she didn't bite because her hair was just straightened. And phil-flash, he was strangely stumped too. That is until Nikki complained once more, saying something about "my hair is getting fuzzed out." That was the bosses' queue. He stood up and told Nikki to open her legs. Click!
Halfway through the set, phil-flash felt like it was theme minus. Nikki was posing on a bland lawn chair in the middle of a colorless garage. Sticking out like a sore thumb and contrasting all of this bland-ism was a yellow rope neatly coiled on the floor. So the next thing you knew, Nikki's arms were tied tightly behind her back, and the set had haphazardly morphed into a rope bondage theme.
Strappado
Mr. flash thought if he tossed his rope over the garage door railing, they could use its leverage. Pulling the rope would force Nikki into a compromising sexual position for some fun pictures. The video guy pulled the rope, and down she went. Her big titty torso bent over, her arms perpendicular to the floor, in the Strappado she was, don't you wish that she did hardcore?
Having had their fun with the Strappado, the guys moved on. They set up three chairs—one for each knee and one for her face. So now, with Nikki's face down and her ass up, phil-rigger-flash made her slide her arms through and grab her ankles. Not only did he tie her wrists to her ankles, but he tied them to the chair legs as well. Nikki was now crab tied and in a position as uncomfortable as hell.
The Video
There was a total of twenty-three minutes of video footage. It is very entertaining to see the jokes, the interactions, and even the name-calling during the shoot. Yes, I called the video guy doopy at one point when he was standing on the rope. It's hilarious, especially Nikki's reaction.
When I was finished editing the behind-the-scenes video, I realized that Nikki had so many great shots. Her face, her body, her poses, her reactions, her smiles... Some of which are magical. So I went on a hunt for a music track that would match the mood I was feeling. I dropped it into my editor's timeline and then started adding the clips and effects. And thus, a beautiful and must-see 3:40 video was created, called Magical Moments Musical Mashup.
When the final cut was done, I did not feel like the set's footage had full justice. Many magical moments deserved to be highlighted or shown better with slow-motion effects and music. So I went on a music hunt and favorited all of the hot clips. Once that was done, I dropped them onto the timeline as a rough draft and knew I had something. You can see all of the highlights from the twenty-three-minute video within the Magical Moments Musical Mashup video (00:03:40).
A meaningful collection is built over time, with hard work and experiences.
Designed for All Devices
All phones, tablets, laptops, desktops, cinema screens, and HDTV's
The Platinum Pass:
☆☆☆☆☆
---
* The Platinum Pass Site List: brattybrittany.com, facedownassupuniversity.com, meganqt.com, nextdoornikki.com, phil-flash.com, taylortwins.com, teenkasia.com, tiffanyteen.com

| | |
| --- | --- |
| Updates | 2,285 |
| Girls | 70 |
| Photos | 277,852 |
| p-f's Secret Stash | 73 |
| Selfies | 47 |
| Outtakes | 844 |
| Videos | 2,793 |
| Webcam Videos | 220 |
| Webcam Screenshots | 916,206 |
| Animated Fun | 2,500 |
| Sites * | 8 |
Choose Your Membership: Epoch w/PayPal
---